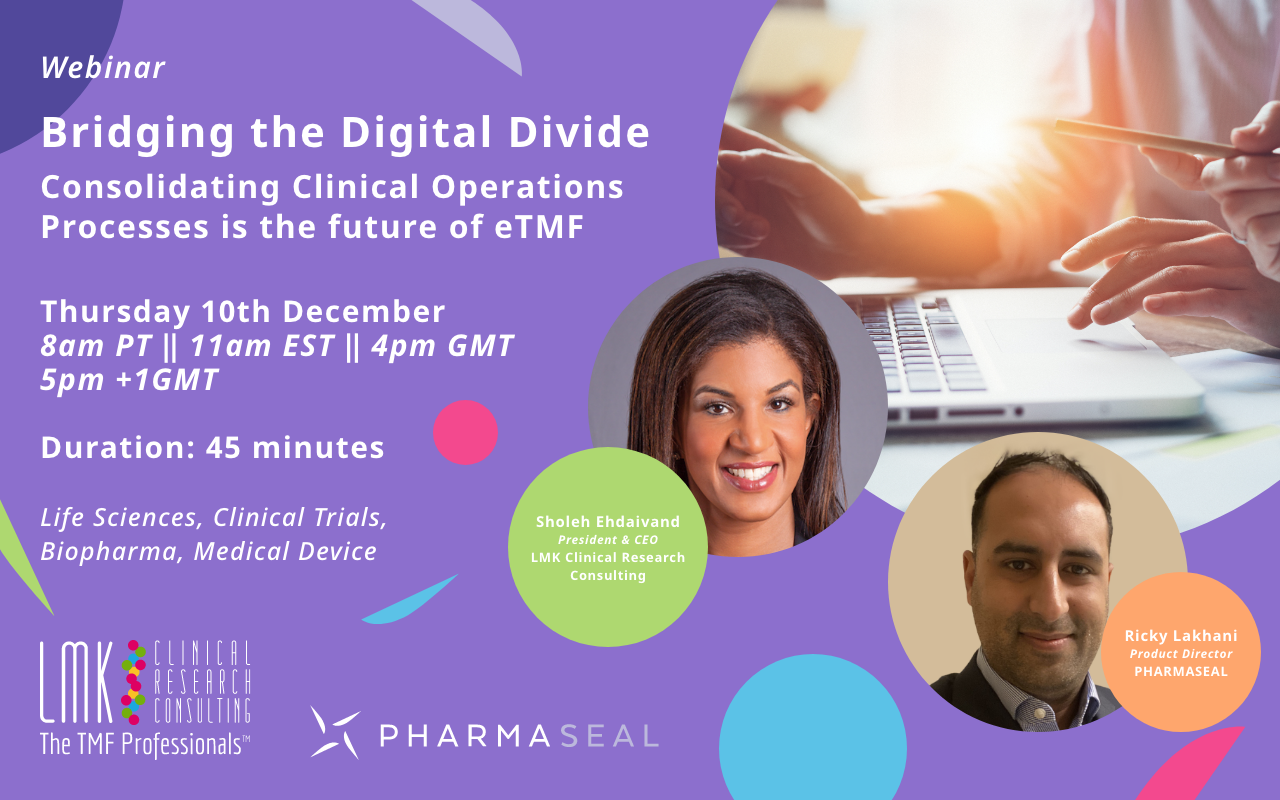 Bridging the Digital Divide
Consolidating Clinical Operations Processes is the future of eTMF
Thursday December 10 - 8am PT ‖ 11am EST ‖ 4pm GMT ‖ 5pm +1GMT - 45 minutes
As more companies adopt eTMF technologies to store TMF records electronically, there are increasing problems with data duplication and costly, complex integrations that impact trial oversight and present challenges to governance. The guidance for good clinical practice (GCP) states that procedures must be implemented for systems to assure the quality of every aspect of the trial. Imagine if CTMS and eTMF capabilities were combined to support clinical operations processes and the associated documents collected during the course of a clinical trial within the framework of a single, unified platform. Companies wouldn't have to work in separate systems with increased IT costs and information fragmentation, and sponsor/partner collaboration could be increased thus reducing the need for data sharing and integration.
Key learning objectives
Implementing eTMF Consolidated Reference Models in accordance with MHRA/GCP requirements
The value of an in-house single solution for better access, real-time control and inspection-readiness to improve trial oversight and compliance
Improving CRO/Sponsor relationships via cloud technology, it's time to think differently
How an integrated Trial Management and eTMF capability is cost-effective and improves trial oversight
Reducing data duplication and the need to integrate disparate systems
Improving collaboration with sponsors, CRO's and other service providers
How to reduce the burden on clinical teams
Audience
Biopharmaceutical, CRO and Medical Device Professionals working within Clinical Operations managing small to large clinical trials.
There will also be a live Q&A at the conclusion of the presentation.
Presenters
Sholeh Ehdaivand is President and CEO of LMK Clinical Research Consulting, a certified woman-owned TMF consulting and services company. She is also the Facilitator of the Metric Champion Consortium's (MCC) TMF initiative; a cross-industry working group defining standard metrics and key risk indicators that support the TMF. She is recognized as an innovative professional with over 15 successful years of experience in the Clinical Research Industry. Her expertise and knowledge in all areas of study management and operational aspects of the clinical trial and document management processes has made her a leader and trusted expert. Her experience includes the TMF reference model member, eTMF management, domestic and international pharmaceutical and biological clinical trials, clinical trial management, site selection, vendor relations/CRO management, electronic document management, regulatory submissions, quality control processes and implementation, IRB communications, and regulatory inspection participation and preparation
Ricky Lakhani is Director of Product Management at PHARMASEAL. An ambitious product management leader with 15 years of global experience specialising in understanding customer requirements and developing products that are valuable, innovative and successful in supporting pharmacovigilance and clinical operations for life science organisations. Responsible for managing the entire product lifecycle from product strategy, planning and definition through to development and delivery. Ricky's career has included roles at Medidata, Roche and Amgen..
To attend this complimentary webinar please register your details below